PodLP Passes 10M Installs on the JioStore!
We are pleased to announce that PodLP has achieved an incredible milestone, passing 10 Million app installs on the JioStore!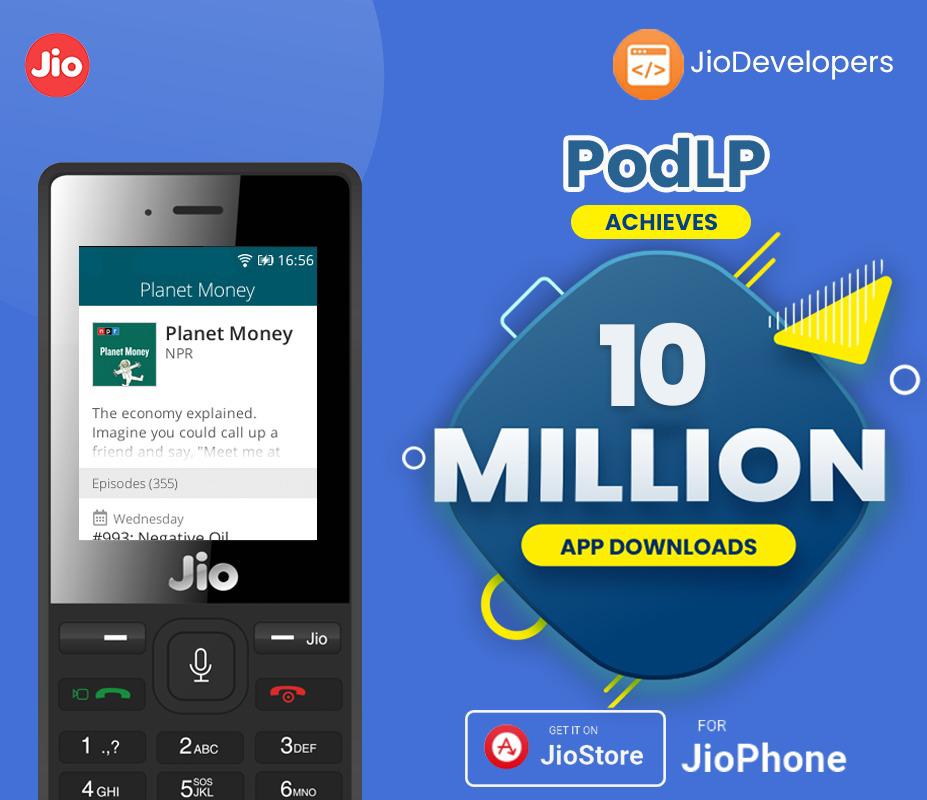 The Road to Ten Million
PodLP was among the first dedicated podcast apps for smart feature phones, released to the KaiStore in June 2020 and the JioStore in October 2020. PodLP was fortunate to one of JioDevelopers GrowthPad Program's Earlier Build for Bharat Cohort Startups, a program that supports brands, products, non-profits, startups, and entrepreneurs as they build and launch apps on JioStore application marketplace. Since then, we have continued to add features and make improvements to deliver the best listening experience on KaiOS devices worldwide.
After more than a year of iteration, PodLP is now equipped with subscriptions, offline downloads, push notifications, controls for playback rate, a sleep timer, Podcasting 2.0 Namespace support, and so much more. It is this focus on the listener experience that has helped PodLP stand out from other apps and become the first third-party application on the JioStore to reach 10M installs.
When we launched PodLP, there was skepticism that feature phone users in emerging markets like India would be interested in podcasts. However, our success in reaching this milestone has proved quite the opposite. "India has emerged as the third-largest podcast listening market after China and the US."
People all around the world are excited to engage with audio content, discovering and subscribing to podcasts as their source of news, education, entertainment, and inspiration. We look forward to continuing our work in making PodLP the platform of choice for the next billion listeners.
Sponsorship Opportunities
Did you know that you can grow your podcast with PodLP? PodLP offers sponsored listings on the app's homepage to connect your podcast with new listeners. Contact sales@podlp.com to explore sponsorship opportunities, availability, and pricing that fits your needs.